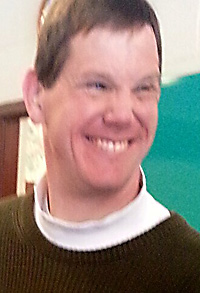 Rev. Jonathon Riedel (Pastor Jon)
Though Pastor Jon is a collector of many books, there is always room for you in his office.  He'll just push over a couple piles of books so you can talk and share your story. Pastor Jon will surely have a story or two to share with as  well.
Education
A native of Wyandotte, Michigan (Eastern Side, South of Detroit), he graduated from Theodore Roosevelt High School in Wyandotte, from Kalamazoo College with a B.A. in Psychology and Religion, and from the Yale University Divinity School with a Masters of Divinity.  He is ordained in the United Church of Christ (back in the pre-cell phone days) and has served churches in South Dakota, Kentucky, Pennsylvania, and Oregon. He has served this church since November 2010.
Personal
He remains as fascinated as ever with psychology and Christian, Biblical, and American history.  He has been known to write an occasional newspaper essay or a poem. His son, Benjamin, is a freshman at Elmhurst College in Elmhurst, IL.
Ben left behind a dog, Baxter, and a cat, Cleopatra, to keep Dad from getting lonely.  When Pastor Jon (yes, he's tall and yes, he talks quite a bit) is not busy chasing animals around the parsonage, he reads, listens to music, watches movies, and engages in a long-running commentary on contemporary culture. He would love to hear where God has led you in your life.
---
Contact Pastor Jon